Following on from the legal fight between two householders and Network Rail failing to control Japanese Knotweed invading their neighbour's property, three Appeal Court judges ruled in favour of the two householders. Their ruling at the beginning of July 2018 said that the householders were entitled to a payment from Network Rail because Network Rail failed to control the plant on its land.
Do watch out for this nasty invasive herbaceous perennial – Fallopia japonica.  It is very prolific in July and is most easily recognized at this time of year by the tall (up to around 10' tall clumps) with reddish stems which can be as thick as your arm.
Japanese Knotweed is a notifiable weed, like Himalayan Balsam and Ragwort, and it's up to the property owner to ensure it is removed.  You won't be able to sell your property if it has knotweed as mortgage brokers won't grant a mortgage and you can be fined £2,500 if you ignore its presence as this is considered a criminal offence.  And following on from this latest legal ruling, as a property owner with knotweed growing onto neighbours' property, you will be liable for hefty fines as well.
If you do suspect you may have this unwelcome visitor, please do give us a call and we can undertake a free site visit and suggest a plan of treatment to eradicate it properly.  It really isn't something you would want to try at home yourself!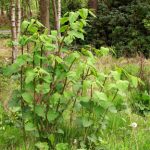 See our web page about our other Weed Control activities here