Artificial surface for healthcare client
We were asked to remove grass and replace with an artificial grass surface for a healthcare client in Poole.
New viewing area, post and rail fencing and seating at Larkhill, Salisbury Plain, Wiltshire
Conservation Contractors won the contract to refurbish the viewing area for the firepower demo at Larkhill on the edge of Salisbury Plain. This included The Royal Review which was celebrated on 26th May 2016, the 300th anniversary of the Royal Regiment of Artillery.  Her Majesty The Queen was present and received The Captain-General's Baton.
The work required 400m new post and rail fence to the perimeter, replacement of all seating to the tune of 3000 linear metres timber seating and a new access track.
Here's the YouTube link – watch for the images of seated spectators - our seating is under them! - watch video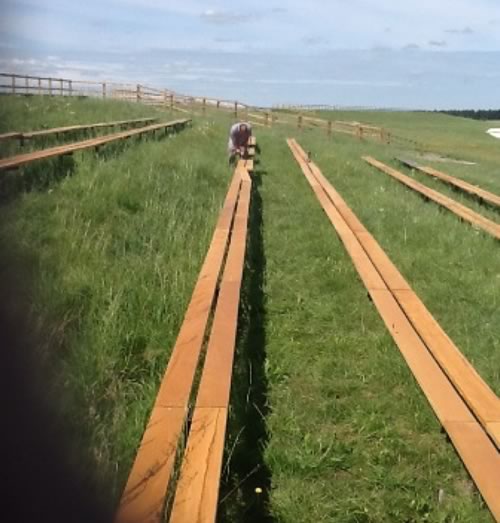 Cricket ball stop net for Bishops Cannings CC in Devizes, Wiltshire
Something a bit different for us.   We erected a 5m high x 70m long ball stop net for Bishop Canning's CC – replacing very old dilapidated one. We designed and made it in-house and the beauty of it is that one person can raise and lower the net on his/her own using a hand winch - the whole length in one go. How good is that?  So if your local CC, school or sports club – anyone with a sports field really - needs a new or replacement net, please point them in our direction!

Various Works in Wadswick, Corsham, Wiltshire for a new residential home complex
Various Works in Wadswick, Corsham, Wiltshire for a new residential home complex
We've undertaken a variety of work here, which has included
Removal of gatehouse building
Erecting raised beds and potting sheds
Laying 900sq metres of turf
Erecting owl boxes

Demolishing the gatehouse in Corsham

Laying 900 sq m turf in Corsham

Erecting raised beds and potting sheds in Corsham

Erecting owl boxes in Corsham
Watercourse Repairs – before and after, Worton, near Devizes, Wiltshire
Whilst clearing trees and undergrowth from in and around a lake, we also uncovered a spot of erosion which has now been reinstated so the water goes over rather than around the weir. The work also required a programme of tree removal and replacement planting, fencing, drainage works and removal of timber from the lake.
Bees, Christchurch, Dorset
We had a busy few weeks in Christchurch, Dorset, last summer giving some TLC, reduction, and some felling to 40 Oak Trees which hadn't been maintained for many years.  We had one surprise, though.  One of the trunks was hollow as it was full of honey!  A colony of bees had nested in it, so with the help of the local Bee Society, we moved them to a new home.   The local Bee Society was just delighted we hadn't simply felled the tree and rendered the colony homeless.  But no responsible tree surgeon would do that, surely?
Spraying and cultivating between solar panels
We sprayed, cultivated and then sowed wildflower seed amongst the panels on an 80ac Solar Farm , near Westbury.
70 acres Solar Park Stage 1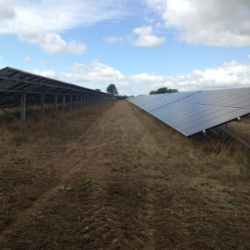 Solar Park 2 – all topped and ready for harrowing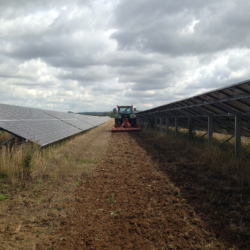 Solar Park 3 Power harrowing Solar Park
Hedge Restoration – before and after – the pictures tell it all - Keevil, near Trowbridge, Wiltshire

Hedge Restoration Before

Hedge Restoration After
New hedging
We planted a native mix of thorn, hazel, dog rose, holly, hawthorn and blackthorn.    When this is complete, we're then sowing wild flower meadows and then maintaining for five years. All this is around a solar farm covering 70 acres.  The wildflowers will grow to create new meadows.
Pests
Following the change in legislation last year concerning the purchase and use of rodenticides, we are pleased to offer a pest control service – from moles, rabbits, rats, mice, insects in commercial kitchens etc.
Bird and bat surveys
If you need a bird and/or bat survey, please call and we'll be pleased to organise for you.
Details of other work involving our other 'non-standard' work can be found on our news page here
If you would like a no nonsense quotation.
Where common sense is still common