Pheasant pens
Deer Netting
Goat fencing > see Stock Fencing
Newt/Reptile fencing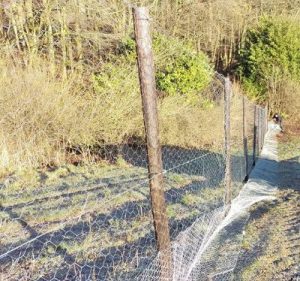 Pheasant pens: With an optimal high tensile mesh size, 6 or 7-foot black plastic netting provides an easy-to-install protective netting for your game birds and is becoming more popular as an alternative to metal on the top half of a fence, which is generally 2-foot galvanized rabbit netting wire.
Have a look at some pheasant fencing we erected for a large Wiltshire based shoot and now's a good time to consider if you need your pheasant pens constructing or extending.  Take a look and let us know if you need any work undertaken.

Goat Fencing: Please see Agricultural > Stock Fencing  
Deer Fencing is usually 1.8m galvanized wire, which is very strong and lightweight.  No barbed wire on top.  It allows you to protect your trees and shrubs from being eaten or being used to rub up against. Here's some Deer Fencing that we installed in Melksham.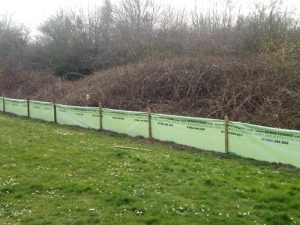 Newt/Reptile Fencing is a simple plastic barrier trenched into the ground by 6in to stop reptiles burying underneath. It's approx. 3ft high with a rolled top to prevent anything climbing up and over.  It is erected where protected wildlife are likely to enter a construction site and be harmed, usually European Protected species.
Here's an example of Newt fencing that we erected as part of the expansion to Tidworth Garrison for Aspire – several 100m worth of it!   It's been erected to allow more building and expansion of the garrisons as troops return to Salisbury Plain.