Equestrian Arenas
Here's some examples of recent equestrian arena work that we have undertaken. Including the erection of a new build equestrian complex with  arena, stables and horse walker area for a client in Chippenham, and to build a 40x20m sand arena in Lavington.
Equestrian-Centre-Chippenham-Case-Study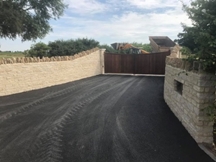 Background: An initial project here led to other work which in turn led to us managing the project for this new build equestrian centre.
Requirement: The project included a new build equestrian school, stables and horse walker area. Inside there are stables, storage areas, washrooms and kitchen. The last image shows the electric gates just installed. Outside we erected 800m of post and rail fencing, 400m native hedge for screening the new building and 300m of mains power trenched and connected. Native hedging is important to the local eco systems, acting as the perfect shelter for local wildlife and some of the most popular native hedging is box, beech and hornbeam.
Results/Benefits: The owners have an attractive state-of-the art equestrian centre purpose built to their requirements, erected to a high specification with future proofing where possible.
Here's our news updates that follow the development.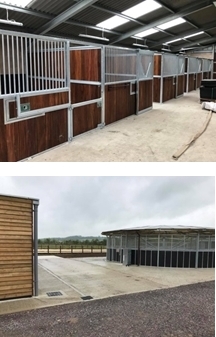 Read the full details on our case study.
Equestrian Arena build, Lavington near Devizes
Following a successful planning application approval, the brief was to build a 40 x 20m sand arena. The topsoil was removed and the site levelled with drainage and soakaway. Then a stone sub base with membrane underneath was laid, then a second membrane.
Finally the correct sand type was added along with post and rail fence and gates installed.
Follow the progress of the construction of this new equestrian arena
Trees up-cycled for jumps at Larkhill
Glad to see our trees being up-cycled for jumps at the Larkhill. Our friend John at Larkhill has been putting horse chestnut tree stems to good use, as jumps for the event held there on Saturday 7th April.
The trees have come all the way from Tilshead!
 If you are considering improving your arena or planning a new one  please give us the opportunity to quote for you.
Conservation Contractors, where common sense is always common.
Where common sense is still common