Cherry Picker/MEWP for Hire – 23m tracked
Conservation Contractors have added  third MEWP to their fleet, a Teupen LEO 23GT
It's ideal for quick, efficient jobs. It is especially suited for jobsites that provide little space and require great working heights. It has a variable and quick multi-position stabilising system, 180 degree rotatable basket and flexible, articulated boom.
Compact and agile: with its compact measurements of only 0,98 m passing width and 1,98 m height, the LEO 23GT can pass through almost every entrance.
Intuitive controls: the control set has colour-coded functions and only four joysticks and there's a fixed control panel in the basket
High-performance stabiliser system: safe positioning even with little space with its three different setup positions
Height and width adjustable tracks: which permit narrowing and lowering the machine for passing entrances or widening the track footprint for more ground clearance and traction
Rotatable basket
Dual power source: the 230V electric motor for silent and zero-emission work inside and the powerful and robust Kubota diesel engine as standard.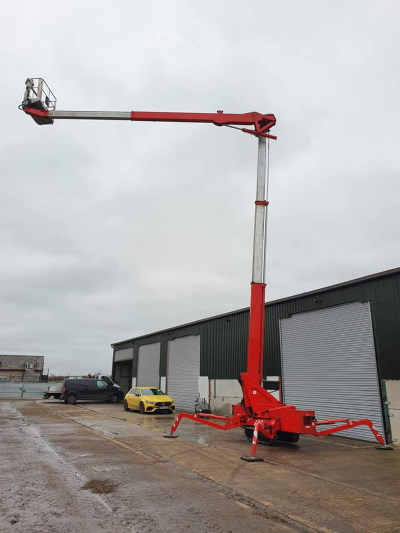 Working Height max: 23m
Side reach, max: 11.2m
Platform capacity max: 200kg
Length, with platform: 6.2m
Transport width x height: 0.98m x 1.97m
Total weight: 2,990kg
Tracks adjustable - standard: Mechanical
Tracks adjustable -optional: Hydraulic
Stabilisation System: Automatic, multi-position
Power source - standard: 230v electric motor + diesel
Power source - optional: 230v electric motor + battery
If you're interested please call us on 07889 461 358, complete the contact form on the website or email info@conservation-contractors.co.uk with an outline of your requirements.
Details of other work involving use of our MEWPs can be found on our news page here
If you would like a no-nonsense quote.
Where common sense is still common